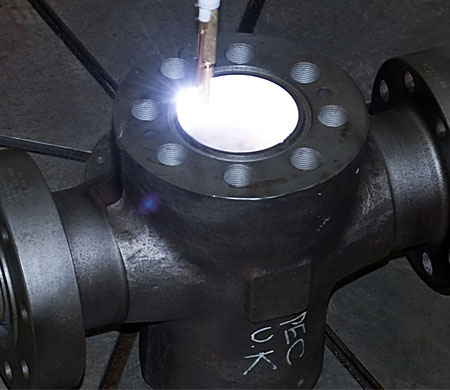 PEC is the world's only dedicated designer and manufacturer of weld cladding systems for the Oil, Gas and Nuclear industry. In comparison, our competitors have wider manufacturing interests and therefore cannot provide bespoke solutions for specific clients or applications. Our systems are backed up by an unrivalled 30 years of product, welding process and applications development experience.
Market Leader
PEC is a market leader having pioneered most of the weld cladding developments and systems such:
Speed & Accuracy
PEC systems one of the fastest in the market, for example compared with other systems we can weld:
Quality Welding
Quality welding is designed into our control systems:
Custom Torches
Successful welding of very small (38mm) and very long (2000mm) bores.
PEC design and manufacture custom welding Torches to suit your requirements (if you cannot reach down to or enter the bore you cannot weld it! We make sure you can).
Unique Multiclad Controller
Our proven MultiClad™ controller is based on exclusive CONTROL techniques and software technology based on extensive customer feedback for example:
UK Manufactured
All our systems are designed, manufactured and tested at our works in Kettering.
We use high quality materials and components from Bosch, THK, ABB etc.
We source from suppliers in the UK, Europe and USA only.
Technical Support
Our experienced team of engineers and distributors who have been involved in many years of installation of PEC products are always available to both existing and new clients to help them to improve their welding performance.
•
Cold wire TIG weld cladding (1986)
•
Hotwire TIG weld cladding (1990)
•
"Patch weld" of cross bore and seat pockets (1994)
•
TwinARC™ TIG weld cladding ( 1995)
•
RotaryHead™ concept (1998)
•
TwinArc™ Pulsed MIG process (2004)
With our extensive knowledge of Oil & Gas industry well head valves weld cladding requirements, we guarantee to be able to weld over 99% of well head valve surfaces.
•
50% to 75% faster in SingleArc Hotwire TIG
•
150% faster using our TwinArc™ Hotwire TIG (only available from PEC)
•
400% faster using our TwinArc™ Pulsed MIG process (only available from PEC)
This speed and accuracy means that our clients can turn round their orders cheaper than competitor systems.
•
Automatic welding of tapered and flat surfaces (e.g. flat-bottom bores) without ANY programming
•
Electronic reduction of torch "bounce" (necessary for torches > 3m lengths)
•
"Live" adjustments of any programmable parameter during a weld (only from PEC)
•
Operator override of NC control system (e.g. to control degree of overlap into counter-bore during bore- bore welding)
•
Automatic quenching of arc instability that cause pinhole defects
•
Controlled heat input ensuring weld fusion and iron dilution requirements are met
•
detection of incorrect positioning of the wire consumable tip in the weld pool